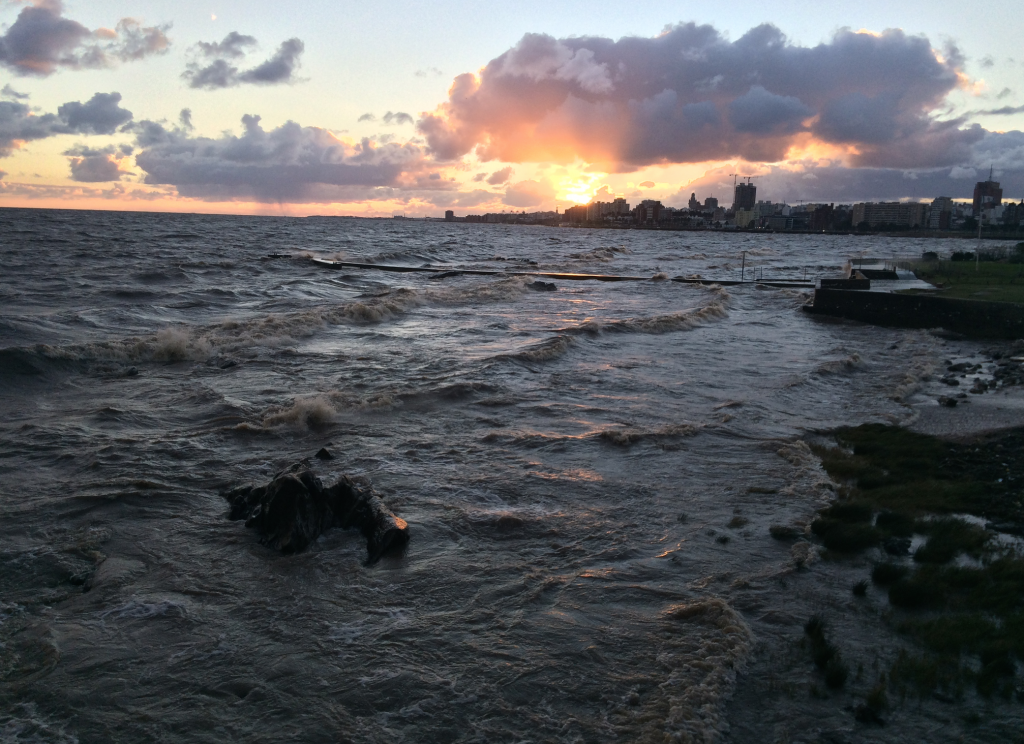 Parilla is pronounced Parisha, welcome to Uruguay!
Alex and Simon headed from the ferry in Colonia, through an uncomplicated customs and straight onto Uruguayan highways! 170km to Montevideo which felt tortuous thanks to the very high winter side winds which blew across the road towards the fast lane, intent on blowing Alex off course into traffic. The flat landscape left the road open to the weather but thankfully, Saturday traffic on the highway consisted mainly of a horse and cart and a handful of cars so the pair were safe to ride another day.
They reached Montevideo a little later- exhausted from fighting the high wind and the intercom gremlins (Simon initially thought Alex had developed severe tuberculosis and was doing her best to deafen him with her coughing) and were greeted with a sweeping vista of the riverfront being battered with waves. One wave even reached Simon!
Simon's friends had kindly offered to host them both during their stay in Montevideo. Jenny and Marcus are seasoned travelers themselves and currently on a long term adventure living in Uruguay. Alex and Simon were so impressed with Montevideo, its eclectic charm in architecture, culture and food enables it to resonate favourably with anyone. Each barrio has a slightly different feel and each its own speciality.
The town is liberally peppered with parks and trees and the wide avenues coupled with cosy side streets make for a very attractive city. The interesting blend of it being a well educated but not wealthy nation has spawned a country keen to be innovative and functional. Alex was interested form an engineering point of view as one of her most admired engineers, Eladio Dieste, was given purpose through Uruguay and its limited budget for building materials. Instead, he used traditional materials in a hugely innovative way. That attitude sets the tone for the country really.
The essential thing to try here is an Assado – basically the King of BBQs. This method of grilling meat is done on a Parilla (in Uruguay and surrounding river plate area, the double l – a y sound usually, is pronounced 'sh' instead). This contraption allows logs of wood to be fired up and turned to red hot embers and ash which in turn is swept under the meat grill to cook the cuts. Of course, it's perfect for grilling Uruguayan steak which is incomparable and should be ordered "jugoso". Check out our Assado experience on our video channel!